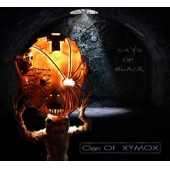 Clan Of Xymox
Days Of Black
Label: Trisol
Genre: Dark / Post Punk / Gothic / Neo-Folk
Availability
CD Digi / Cardboard €16.99

Dispatched within 5-10 working days
Dark days call for dark music. It doesn't bear thinking, then, about what we would do without people like Ronny Moorings. People who have been the very soul of a scene for many years, who roam the earth with open eyes and ears and who clad everything out there that is distressing, unsettling and deeply worrisome into dark and therefore salubrious music. With his band CLAN OF XYMOX, Dutch icon Moorings is doing exactly that since 1984. This, in 2017, is more welcome, more important and more wholesome than ever before.
Dark days, as may well be repeated, call for dark music. Ronny Moorings is aware of that. He even kept treasured an especially intense facet of his oeuvre for harsh times like these. For days of black when even optimists say their glass is half empty. "Days of Black", then, is the apt title this untiring Dark Wave priest from Nijmegen chose for his latest offering. As if by an invisible hand, its weightless, melancholic, sombrely pulsating odes lead us into an altogether different world.
Needless to say, a figure like Ronny Moorings is nobody's fool. Needless to say, nobody has to explain to one of the most influential, most important and most popular Dark Wave bands ever to emerge from the eighties how to evoke atmosphere. Still, to return with an opus like "Days of Black" after 33 years in business, after countless albums, EP's, singles and immortal tours around the globe is nothing less than an outcry. This record unites monotonous rigour with floating lightness, marries juvenile "Sturm und Drang" with the expertise of the experienced artist. Thus, before the opening track with its vigorous drums, its shimmering Post Punk guitars and its menacing synth foundation is over the verdict is here: Yet again, CLAN OF XYMOX have reached a new, perhaps even their highest peak.
In times in which an entire armada of newcomers unearths Dark Wave romanticism, Post Punk depression and early Goth melancholy, CLAN OF XYMOX are everything but a long forgotten relic desperately trying to prove where it all came from by a cliché laden pastiche of their own past. Instead, they prove to be a balanced, matured and aesthetically perfect unit that never halted and that today is able to connect three decades of music history in the most atmospheric, gripping and arousing way possible. Each and every song possesses a momentum instantly hypnotising everything within reach – a sure sign of this extraordinary band's supremacy and a rare fluke translating the unbeaten aura of the eighties into our black times.
Let the contemporary feuilleton laud all these Post Punk epigones: Right here, in the DNA of CLAN OF XYMOX, lies the very core of this music. Even more: it is very much alive as well! Dark days call for dark music. CLAN OF XYMOX still serve it on a baffling level. And in doing so, they yet again erect another monument.