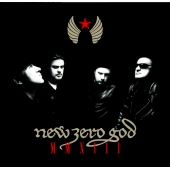 New Zero God
Mmxiii
Label: B-otherside
Genre: Dark / Post Punk / Gothic / Neo-Folk
Availability
CD Digi / Cardboard €9.49

In Stock
The album title is the latin numeral "MMXIII", a nod to its release year, namely 2013.
MMXIII comes with 10 tracks steeped in guitar-driven Gothic/Post Punk. It was recorded in Athens, Greece, during June to November 2012, and was mastered in the UK.
The band's current line-up includes three original Flowers Of Romance members, singer Mike Pougounas, bassist Harris Stavrakas, and guitarist Lao, along with Sidheog Steves, ex-The Drops and New Zero God's co-founder, on drums.
Κυκλοφόρησε το νέο άλμπουμ των New Zero God, το δεύτερο που κυκλοφορεί το Ελληνικό συγκρότημα με την Αγγλική εταιρία Secret Sin Records.
Ο τίτλος τού άλμπουμ είναι ο λατινικός αριθμός ΜΜΧΙΙΙ και παίρνει το όνομά του απο την χρονιά κυκλοφορίας του, δηλαδή το 2013.
To ΜΜΧΙΙΙ περιλαμβάνει 10 τραγούδια τα οποία κινούνται στο μουσικό ύφος του κιθαριστικού Gothic Rock και Post Punk. To άλμπουμ ηχογραφήθηκε στην Αθήνα από τον Ιούνιο μεχρι τον Νοέμβριο του 2012, ενώ το mastering έγινε στην Αγγλία.
Στην σύνθεση του συγκροτήματος υπάρχουν πλέον 3 μέλη των Flowers Of Romance, ο τραγουδιστής Μιχάλης Πούγουνας, ο μπασσίστας Χάρης Σταύρακας και ο κιθαρίστας Λάο, ενώ στα τύμπανα βρίσκεται ο Δημήτρης Στεβής, πρωην μέλος των The Drops και ιδρυτικό μέλος των New Zero God.