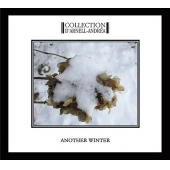 Collection D'arnell Andrea
Another Winter
Label: Trisol
Genre: Dark / Post Punk / Gothic / Neo-Folk
Availability
CD Digi / Cardboard €17.49

Dispatched within 5-10 working days
As young as the year 2019 still may be: it already has the first massive surprise to offer. Of all bands, it is Dark Wave and Heavenly Voices pioneers COLLECTION D'ARNELL-ANDRÉA who return to the stage of lugubrious music. But that's not all: Their brand new, by now tenth studio album "Another Winter" is en passant redefining and reinventing the already presumed dead genre of Dark Wave.

It's been another time when COLLECTION D'ARNELL-ANDRÉA first raised their head. Founded in 1986, they debuted with "Autumn's Breath for Anton's Death" in 1988, a fey, melancholic, darkly romantic masterpiece often cited in the decades to come. Back then, DEINE LAKAIEN still had a long way to go until "Dark Star", GOETHES ERBEN or DAS ICH haven't even been breathing and also FIELDS OF THE NEPHILIM were still in their early stages. Well, DEAD CAN DANCE were already legends larger than life, but nobody should be amazed by that. Similarly sworn to the enigmatic and the melancholic, COLLECTION D'ARNELL-ANDRÉA yet managed to retain a stand-alone aura not comparable to anyone else. Ever timeless, ever permeated by a deep poetic magic. Ever unique.

After a phase of unprecedented creativity, 1996 saw the project slow things down. But now, after a second productive cycle in the beginning of the new millennium, the peerless ensemble once again awakens from its slumber. "Another Winter", their first new album since 2010, floats into our ears as effortlessly and soft as their visionary records of the eighties and nineties, once again underlining the fact why COLLECTION D'ARNELL-ANDRÉA have to be mentioned in the same breath with DEAD CAN DANCE or COCTEAU TWINS. Elegiac yet powerful Dark Wave, enmeshed in neoclassical drama and electronic finesse. The symphonic or convulsive strings respond vigorously to the tenacious melancholy of a nostalgic piano; they let themselves be carried away in the electro turmoil of aerial or noisy guitars, arpeggio synths and minimalist rhythmic loops.

The lyrics evoke the universality of passing times, the sorrows and the mourning but the remarkable, captivating and more present than ever voice of Chloé transforms these contemporary elegies into a romanticism turned towards the light. If the musical colour of the album remains very "collectionist" and thus retains all the originality of a sound forged for almost 30 years, "Another Winter" confirms a natural evolution towards more contrasted climates that will undoubtedly charm the fans of PORTISHEAD, THE NOTWIST or BRENDAN PERRY.