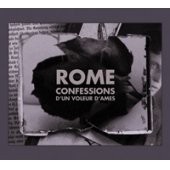 Rome
Confessions D' Un Voleur D' Ames
Label: Trisol
Genre: Dark / Post Punk / Gothic / Neo-Folk
Availability
CD Digi / Cardboard €15.99

Dispatched within 5-10 working days
Only a few months after the release of its first full-length album "Nera", ROME was back yet again to show that it's here to stay. "Confessions d'un voleur d'âmes" is a call from a world where love and despair are locked in an embrace. A black craving in the fangs of war, the joys of stealth in a riot of blossoms.
This second album is calmer and rather more personal than "Nera". These confessions are often dark and poetic, sometimes brutal, but most of all intimate. Again you will find traces of all kinds of genres of obscure music; ambient, neo-classical, dark wave, apocalyptic folk, martial industrial. ROME couldn't care less about boundaries of genres. However, the tone is less militant, the main themes being treachery and sacrifice, temperance and composure. With a distinctive slice of suicide pop fiddled into their exquisitely dark sound, ROME has established itself as one of the most lively and interesting experimental folk acts up and about. These confessions prove that ROME has become a force to be reckoned with.

The first edition of this album has long been sold-out since its release in 2007. Trisol is both honoured and proud to finally make this release available again to you. Due to Jerome's constant changes of address during the CMI-years some original artwork files have been lost to time. However, the artwork has been restored or partially re-invented and even enhanced with a booklet containing all lyrics and additional photographs.