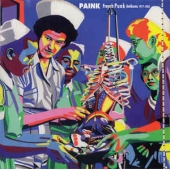 Various Artists
Paink - French Punk Anthems 1977-1982
Label: Born Bad
Genre: 80s Wave / Rock / Pop / Punk
Availability
LP €17.49

Dispatched within 1-4 working days
The Punk (which was often pronounced "paink" in many places) French in its infancy: a copy not really consistent with the original.

Stammering, swarming with variable geometry, chaotic anarchy for real, bad intentions transformed into good; this is how punk rock (or at least what came closest to it) was, for the first time, adapted to our little hexagonal sauce. No network a minimum active - distributor of records or circuit of concerts - to diffuse it, hostility of previous generations (or worse, compassion, even paternalism ...), nothing and nobody to make the link between the few isolated small groups first inhabited by the passion of a supposed real rock (the desire to terrorize the neighborhood came soon after) and who, each in their corner, tried to challenge their small province or their big slumped city center. Which of course did not care ...

It was not a movement, contrary to what later will be told in articles or idle books, it was just for some a sincere attempt, inevitably doomed to failure in a country like that one (that of Giscard or Mitterrand, which for us was the same) to bring together the nasty use of guitars with an unfathomable disgust of everything and a boredom that undermined as much as they fed the daily teenager . Or, for slightly older, post-adolescent.

It was happening in Marmande, Reims, Lyon, Paris or elsewhere. But even when you thought you were in the eye of one of the cyclones (as far as I'm concerned, a small record shop " at the forefront " in Normandy where I was a salesman), we did not know everything, or almost everything that was going on elsewhere. We knew better the last 45T released in London by Stiff or Chiswick Records than those of Strychnine in Bordeaux or Sex in Pile in Lyon.

That said, in a selfish way, we did not care a bit, since in our perimeter "eye cyclone" there was already enough to be satisfied: Little Bob Story in Le Havre (the group that before all the others brought rock in the provinces furthest away and the least well endowed), the Dogs in Rouen and the suite, with far more personal implications, Olivensteins, Gloires Locales or Nouveaux Riches ... In addition, as The Clash had given, in April 77, his first French concert in the area (the same season when the Stranglers and Ramones had occurred within 80kms), we had plenty of enough to satisfy ourselves without going to see very far. The area has been a beautiful hub for quite some time now since Dr. Feelgood not yet well known, Eddie & The Hot Rods and even The Snakes, the first group of a future Wire, had been there in the unfussy days of Pub-Rock. The local excitement was there, the formation of innumerable new groups followed naturally.