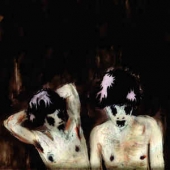 Feeling Of Love
Reward Your Grace
Label: Born Bad
Genre: Rock / Pop
Availability
LP €17.49

Dispatched within 1-4 working days
The Feeling of Love went from a one-man band playing a minimal garage and nihilist blues, borrowed from no wave, to a trio whose music, even if it remains on the side of the garage becomes more complex, ogling progressively towards the krautrock, the psychedelic and pop.

The group based mainly in Metz (France), created and led by Guillaume Marietta, then joined by Seb Normal and Sebastien Joly released his first studio album at Born Bad Records in April 2011. DISSOLVE ME (also released on the US label Kill Shaman Records ) is the manifesto "kraut space garage" of the group. The songs get longer, the drums are more tribal, the keyboard hammers its notes on an infinite highway, and the guitar is lost in fogs of delay.

The disc allows the group to meet a wider audience, to play on big festivals like Rock en Seine and to be recognized by the French press (cover of Télérama Sortir, articles in Le Monde, Les Inrockuptibles, Noise, Magic, Grazia , etc.).

After many times playing in Europe and making two tours in the United States, often sharing the poster with groups such as Ty Segall, Thee Oh Sees, White Fence, Intelligence, Girls, Strange Boys, etc. , The Feeling of Love released on April 04, 2013 his new studio album, REWARD YOUR GRACE, still at Born Bad. If the titles still carry in them this brand melancholy psychedelic garage, the trio reinvents its music here by going to explore the territories of shoegaze and pop. The ghosts of Velvet Underground, Suicide and Spacemen 3 are still present. They are next to Syd Barrett, My Bloody Valentine and Jesus & Mary Chain.

REWARD YOUR GRACE is a brighter, more controlled record, but never slacker. Between psyche pop walks, long trance beaches and crossings of sudden loud explosions.