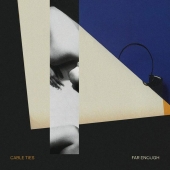 Cable Ties
Far Enough
Label: Merge
Genre: Rock / Pop
Availability
LP + MP3 COUPON €19.99

Dispatched within 5-10 working days
Other Formats
Cable Ties are a fierce, tense rock'n'roll trio. They take the three-minute punk burner and stretch it past breaking point to deliver smouldering feminist anthems. Post-punk and garage rock hammered together by a relentless rhythmic pulse. Jenny McKechnie channels her struggles into songs that resonate deeply, giving voice to feelings often buried in modern life. Shauna Boyle and Nick Brown are a rhythm section anchored in Stooges primitivism, relentlessly hammering out a bedrock for McKechnie's guitar pyrotechnics and vocal wallop. Three friends summoning a rhythmic tide to deliver anthems that turn latent anxieties into a rallying cry.

The band has been committed to an inclusive feminist and political outlook since its inception in 2015, exploring issues of gendered violence, colonialism, and sexual assault. The band members have been involved in benefit shows, organized DIY festivals, and volunteer with Girls Rock!, a not-for-profit organization that aims to empower female, trans, and gender non-binary youth in music.

Cable Ties are dedicated to their local community and independent networks, and to playing diverse and inclusive shows. They have toured Australia a number of times and have developed into a lean and efficient touring band who deliver powerful and meaningful shows. Their debut self-titled album, released in 2017 on Poison City Records, was a Triple J feature album and album of the week on 3RRR, with strong support nationally from community radio. They have also self released three 7" singles which have all sold out. The debut album is on its third vinyl pressing.