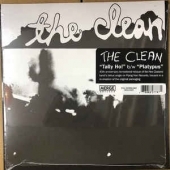 Clean
Tally Ho!
Label: Merge
Genre: 80s Wave / Rock / Pop / Punk
Availability
7" €12.99

Dispatched within 5-10 working days
The "Tally Ho!" b/w "Platypus" 7-inch and the Boodle Boodle Boodle 12-inch EP, the Dunedin trio's first official recordings as a band, both celebrate their 40th anniversary this year. These reissues have been remastered by Tex Houston with assistance from the Alexander Turnbull Library New Zealand, and The Clean's David Kilgour and Robert Scott oversaw the careful re-creation of the original packaging. Merge is thrilled to make these records globally available for the first time since their original release in 1981.

Pitchfork described "Tally Ho!" as "a classic of immense proportions, from its Velcro melody, absurdly mixed garage organ and motorik beat, to the crusty, hiss-laden home eight-track recording that embodies it." Recorded in the middle of a New Zealand tour for a humble NZ$60, the song broke into the country's Top 20 singles chart at #19, surprising everyone including the band. Its B-side "Platypus" was recorded live at a show just days prior, capturing the band's buoyant and elastic sound on stage.

Silver vinyl.