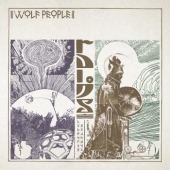 Wolf People
Ruins
Label: Jagjaguwar
Genre: Rock / Pop
Availability
CD Digi / Cardboard €16.99

Dispatched within 5-10 working days
Other Formats
Ruins is Wolf People's new album, and its over-riding theme is that of nature reclaiming the land. The transcendence of life over politics, plants over people. It asks: where are we going and what comes next? If culture is history's narration, then Wolf People are custodians and conduits; electrified sages, if you will.
Through them runs a time-line of a nation rising from bloody glory to existentialist confusion. Yet within Ruins, their album proper, lies a spirit of hope too, it is a reminder that society is no match for the mighty power of music and nature working in perfect symbiosis. Wolf People are time travellers, their tools mythology, history, hauntology, big riffs, bigger beats, electricity.
Recorded in Devon, Isle Of Wight and London, Ruins is their most direct and instinctive work yet, simultaneously reaching back into a fecund past to tell us who we are today, while harnessing the power of modern technology and ideas to ponder unknown futures. Lyrically Ruins imagines how the planet might appear when society has finally fallen to dust and ash, and the creeping vines and nettles have reclaimed the land. It is the product of letting go of conceit, contrivance and, indeed, a career plan. Influences upon Ruins come in all shapes, size, contours and hues: the discovery of proto Sabbath/Zeppelin Scottish band Iron Claw, the lesser known landscapes of rural Bedfordshire, backstage Taekwondo stretches, Scandinavian
psychedelia, fleeting rural epiphanies, Dungen, Trees, Peter Green's Fleetwood Mac, a group holiday on a remote Finnish island, and Jagjaguwar flipping out after seeing them play in Bloomington, Indiana and insisting it was time they made their Back In Black...