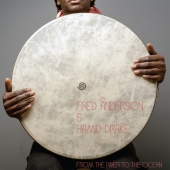 Anderson Fred & Drake Hamid
From The River To The Ocean
Label: Thrill Jockey
Genre: Jazz / Avant Garde
Availability
LP x2 €32.99

Dispatched within 5-10 working days
Tenor saxophonist Fred Anderson and drummer Hamid Drake had the closest of relationships, as close as a father and son might have. Their communication was at a higher level musically and emotionally. The music on this album reflects not only their masterful musical skills, but a conversation in music that is exceptionally powerful and unique. For From the River to the Ocean, they assembled a band consisting of fellow Chicagoans to record the most relaxed, perfectly balanced album they made together. It may seem hyperbolic to call From the River to the Ocean Fred Anderson's greatest album, but the empathy and cohesiveness of the ensemble, coupled with the saxophonist's brilliant, searching improvisations, makes it a powerful contender.

From the River to the Ocean is an especially varied outing, ranging from Anderson's classic set-closing blues "Strut Time" to the meditative, spiritual, modal track "For Brother Thompson," dedicated to the late trumpeter Malachi Thompson and featuring bassist Harrison Bankhead on brooding piano and Drake chanting in Arabic. The record's title track and the closer, "Sakti/Shiva," find bassist Josh Abrams laying down an astounding bed on guimbri, the threestringed Moroccan acoustic bass familiar to fans of Gnawa music. Another of the album's delights is guitarist Jeff Parker, well-known Jazz guitarist as well as member of Tortoise. Here, Parker displays an immense sensitivity and melodic genius, sharing solo spotlight with Bankhead's cello on "From the River to the Ocean" and sculpting a stunning array of shapes on the group's swinging take on Anderson's "Planet E."

Underneath it all is Hamid Drake, an intensely creative soul continuing to challenge himself. Drake's growth is not measured in how many different instruments he plays – indeed, he's scaled back his arsenal over the years – but in the depth and musicality of his feeling. On this record he is remarkably light and airy, playing with tremendous delicacy and clarity. Propulsion can be introduced without a pneumatic drill, and Drake instigates an avalanche of rolling forward momentum on the opening moments, inspiring the two basses and guitarist to move, to make something moving, and in turn to further inspire Fred Anderson to some of his most forceful and imaginative playing ever documented.

If the individual is a small receptacle of expressivity, a mountain spring if you will, then it is in ideal settings like this one that the springs join forces, turning into streams, then bigger and bigger tributaries, finally swelling into rivers that open into the oceanic creative waterways. Thank goodness Anderson and Drake tapped into that wellspring, drawing directly from the source.