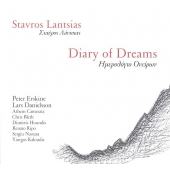 Lantsias Stavros
Diary Of Dreams
Label: Ikaros Music
Genre: Jazz / Avant Garde
Availability
LP x2 180gr €35.99

In Stock
"Diary of Dreams" began as a journal of musical ideas. Like dreams that are forgotten soon after we wake up, that's how I felt my melodies, like memories from dreams that I didn't want to be forgotten. My wish, was to be moved by the musical outcome which in turn I hoped to move the musicians and ultimately you, the listeners!

Stavros Lantsias piano
Peter Erskine drums
Lars Danielsson bass

Athens Camerata 1, 2, 3, 6, 7, 8, 13

Chris Bleth oboe, english horn, clarinet, flute & alto flute 1, 2, 3, 6, 7
Dimitris Houndis soprano saxophone 8, 13
Renato Ripo solo cello 1, 6, 8
Sergiu Nastasa solo violin 1, 7
Yiorgos Kaloudis cretan lyra 7

Limited edition of 400 copies.