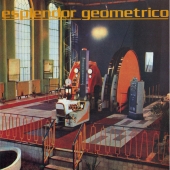 Esplendor Geometrico
Mekano - Turbo
Label: Geometrik
Genre: 80s Wave / Rock / Pop / Punk
Mekano-Turbo (Discos Esplendor Geométrico.LP 1988) is the fourth album and a classic inside the discography of legendary and influential Spanish Industrial cult band Esplendor Geométrico. Now available again in its original format, remastered in 2022, and unavailable on vinyl for more than 11 years.


Finally, the fury is unleashed in all its splendour. The superb three initial tracks are pure rhythmic adrenaline on which is supported the totally runaway voice of Arturo Lanz. "Rotor" would be even considered as a not intentioned approximation to the electronic body music. In the same wave are also located "Belew" and "Mekano-Turbo". On the other hand, it seems to be that the residence of Gabriel in Melilla (North Africa) and the consequent proximity of the arabic culture it influences on some tracks ("Sheikh", "Transmisión"). Considered by the media and many fans as a masterpiece of the group. The wonderful cover continues the customary line of showing strange machines or decadent industrial buildings.

Considered by many fans as a masterpiece of the group and a industrial classic of the eighties.