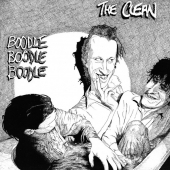 Clean
Boodle Boodle Boodle
Label: Merge
Genre: 80s Wave / Rock / Pop / Punk
Availability
12" €19.99

Dispatched within 5-10 working days
Other Formats
The "Tally Ho!" b/w "Platypus" 7-inch and the Boodle Boodle Boodle 12-inch EP, the Dunedin trio's first official recordings as a band, both celebrate their 40th anniversary this year. These reissues have been remastered by Tex Houston with assistance from the Alexander Turnbull Library New Zealand, and The Clean's David Kilgour and Robert Scott oversaw the careful re-creation of the original packaging. Merge is thrilled to make these records globally available for the first time since their original release in 1981.

Featuring Clean classics like "Anything Could Happen" and "Point That Thing Somewhere Else," Boodle Boodle Boodle arrived two months after the "Tally Ho!" single, peaking at #5 and staying in the NZ Top 20 for nearly six months. Recorded on four-track by The Clean's childhood friends Chris Knox and Doug Hood, its five hugely influential songs provided a roadmap for the "Dunedin sound" that would soon follow. Boodle Boodle Boodle was awarded the Classic Record distinction by New Zealand's Taite Music Prize in 2017.
includes the 16-page zine that came with the rare original vinyl pressing.