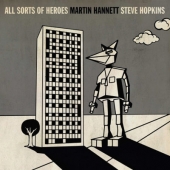 Hannett Martin & Hopkins Steve
All Sorts Of Heroes - Rsd Release
Label: Finders Keepers
Genre: 80s Wave / Rock / Pop / Punk
Availability
7" €11.99

Dispatched within 5-10 working days
From the shrapnel of the unlikely collision point where Mancunian post-punk royalty collides with sci- cinema and art house animation, this obscure diamond in the rough shines a new light on the Northern DIY era providing disc detectives with a whole new punk funk perspective. Recorded in 1976 by Invisible Girls' Steve Hopkins and Martin Hannett for a truly bizarre stop-motion animation called All Sorts OF Heroes, this hard edged funk instrumental theme reveals another side to this versatile production team joining the hidden dots between Hannett's own discoid experiments with ESG, Gyro, A Certain Ratio and the mythical Afro Express recordings from the same year.

Embodying as much in common with 1970's bass heavy European funk soundtracks by bands like Goblin and Placebo, as the expected parallels with John-Cooper Clarke's backing tracks or early Happy Mondays, this early 1976 session is the perfect example of Hannett and Hopkins' under-the-radar artistic commissions working to a storyboard brief in what has now become recognised as a fertile arena for lost lmic funk.

Drawing historic parallels with Leeds-based Graeme Miller and Steve Shill's home recorded DIY soundtracks for The Moomins animation and accentuating the connection between Manchester based animation house Cosgrove Hall (Dangermouse/Chorlton And The Wheelies) and its employees Bernard Sumner, John Squire and members of Gerry And The Holograms, this lost recording adds kudos to a quirky micro-niche and reveals another dimension to Northern anti- pop's snarky personality.

Pressed here by Finders Keepers for the first time on vinyl, in close accordance with the wishes of Steve Hopkins himself, this custom-composed track originally appeared on the short lm by Rick Megginson and Steve Hughes which was shown at the Ottawa International Animation Festival in 1976 where it might have otherwise remained, preserved in an 8mm lm box up until now. As relevant today as it was then, this closely recorded, cosmic cartoon, slappy funk theme provided the films backdrop for a workshop montage scene where an aardvarkian spaceman constructs a giant metal face robot which might well leave fans of Madlib and MF Doom fans pondering time travel?! Like much of the lost and unreleased projects that stalled on the peripheries of early proto-Madchester, including the disco-pogo music of Spider King, Gerry And The Holograms, The 48 Chairs, Naf and The Mothmen, this record has been frozen in time waiting for the wider marathon of independent pop to catch up!

Presented here faithful the 45 format of choice, this 7" might well be another missing link between your Rabid, Absurd and Factory records, backed with another lesser- known Invisible girls recording Scandinavian Wastes which has also been begging for its first vinyl outing since its recording in the early 1980's. Another historical bucket list release for Finders Keepers Records outernational discography, leaving zero stones unturned, even the ones under our own doorstep.