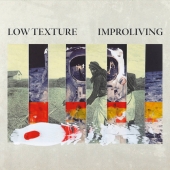 Low Texture
Improliving
Label: Submersion Records
Genre: Post Rock / Avant Rock
Availability
CD Digi / Cardboard €11.99

In Stock
Low Texture is a minimalist post rock trio based in Athens and Thessaloniki, featuring members of Spineless, Six Steps Above The Earth and The Dandelion Fields.

Their approach to making music could be described as semi improvisational as they go into the studio with some ideas but the end result is always unknown as they play and record songs the same day, then adding a few layers of overdubs.

With influences ranging from Anneke van Giersbergen to Diamanda Galas, Chrysa Tsaltampasi delivers powerful melodic vocals using a range of vocal techniques she has honed over the years.
Sakis Gallo, a musician with deep understanding of minimal guitar playing, lays down the foundations of the songs with musical phrases that express the core feeling each song aims to convey to the listener.
Vasilis Gkogkidis adds the final touches to the songs using guitar, bass, theremin and noise generator creating layers of sounds that compliment the rest of the composition.

The seven songs in "Improliving" invite the listener to experience a range of emotions such as sadness in "Misleading Grey", hopefulness in "I Never See" and resolve in "Distress".
Longer songs like "Ten Years Ago" and "Low" allow the trio to experiment with looser song structures and a variety of different sounds and playing techniques. Despite its improvisational roots, "Improliving" offers listeners an adventurous but carefully structured musical journey featuring inspiration from different genres all filtered through the band's minimalist aesthetic.