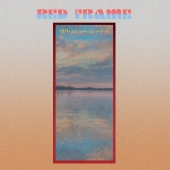 Red Frame
Whakapakoko
Label: Submersion Records
Genre: Post Rock / Avant Rock
Availability
CD Digi / Cardboard €9.99

In Stock
This first work by Red Frame is an organic prog rock album, an instrumental experimental compilation of avant garde songs that was created following the philosophy of improvisational jamming sessions.

Red Frame consists of 3 excellent musicians from Thessaloniki, Greece: Sakis Gallo on guitar, George Baltas on the drums and Alex Kiourntiadis on the violin.

The second national lockdown was very different from the first one especially for working musicians. The need to stay home and rest was gone and there was now a need for more creative endeavours to take place. Especially for professional musicians like Red Frame, not being creative was not an option anymore and George Baltas was happy to accept Sakis Gallo's invitation to jam some new ideas he had.

A few months later the songs that are in Red Frame's first album had taken form and recording them was the next logical step.Gallo's baritone guitar covered for the absence of a bass player by providing a rich and stable musical base for the whole album.

The violin's melodies permeate the songs and its warm sound added another crucial piece to Whakapakoko''s sound puzzle.
Alex Kiourntiadis, who also plays in Mother Turtle alongside George Baltas, contributed greatly with his playing in shaping the final musical identity of the album.

Limited Edition 100 Digipack CD Copies .