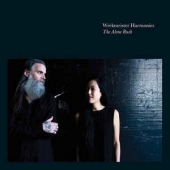 Wrekmeister Harmonies
The Alone Rush
Label: Thrill Jockey
Genre: Post Rock / Avant Rock
Availability
LP €23.99

Dispatched within 5-10 working days
Wrekmeister Harmonies' new album, The Alone Rush, their first as the core duo of JR Robinson and Esther Shaw, is a hauntingly intense and dark meditation on death and isolation, whose concise compositions carry an emotional heft without the orchestrated bombast of their previous four albums.

The Alone Rush retains Wrekmeister Harmonies' expansive and ambitious aesthetic, blending waves of ethereal keyboards, haunting string melodies, and crescendos of dissonance, but now turns the central focus towards Robinson's deep, rich, and soothing vocals. The two guests involved in The Alone Rush are longtime friend and Swans drummer Thor Harris, performing minimal drums and clarinet, as well as acclaimed New York producer/engineer Martin Bisi. Over the course of their five albums on Thrill Jockey Wrekmeister Harmonies have veered from drone to modern classical, outrock and extreme metal, curating and orchestrating the talents of such varied
underground luminaries as Godspeed! You Black Emperor, David Yow of The Jesus Lizard, Chip King and Lee Buford of The Body, Marissa Nadler, Jef Whitehead of Leviathan, Alexander Hacke of Einstürzende Neubauten, Sanford Parker of Minsk, the free-improv cellist Fred Lonberg-Holm, Chris Brokaw of Come, and jazz composer Ken Vandermark.

Limited color edition.