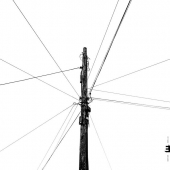 Slowly Rolling Camera
Where The Streets Lead
Label: Edition Records
Genre: Freestyle / Nu Jazz / Funk / Afro
Availability
CD Digi / Cardboard €17.99

In Stock
Where the Streets Lead is the new album from Slowly Rolling Camera, following on from their acclaimed 2018 album, Juniper. Colliding the worlds of jazz, trip-hop and cinematic soundscapes, their music blends strong melodies, big grooves and surprising turns of phrase, infused with expansive emotional gravitas. With this album, recorded throughout 2020, the music takes on a greater scale which includes an 8-piece string section and a list of world-class guests including Mark Lockheart, Jasper Høiby, Verneri Pohjola, Chris Potter and Sachal Vasandani, as well as the band's regular guitarist Stuart McCallum.

This is an album about opportunity, about embracing unknowns and seeing what life throws at you. It's a reflection on searching for balance, a sense of purpose and identity in everyday life. For the core group of Dave Stapleton, Deri Roberts and Elliot Bennett, it's a unified take on the journey and the influences that have shaped them all individually and as a collective.

Where the Streets Lead is emphatic in its purpose to communicate the joy of collaboration and to communicate through an audio-sensory landscape their vision of the world. There is a boldness and simplicity in its conception balanced with the attention to detail in its production. With Juniper, their new pathway was set. Where the Streets Lead, is a natural progression and development of the bands' exploration.