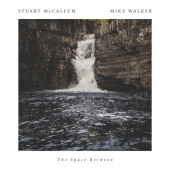 Mccallum Stuart / Walker Mike
The Space Between
Label: Edition Records
Genre: Jazz / Avant Garde
The Space Between is the second album by long-term friends & guitarists Stuart McCallum and Mike Walker. Following 2014's self-produced Beholden, The Space Between is an album that expresses McCallum and Walker's abiding love of melody and space, their friendship and respect, and the multifarious sounds and timbres that their instrument has to offer.
Beholden featured spacious reimaginings of the guitarists' compositions and jazz standards; the music was serene and elevated. The Space Between finds Stuart and Mike developing extra gravitas, focussing on McCallum originals written especially for the duo. In addition they include two exquisitely chosen standards: Bacharach & David's 'Alfie' and 'My Ideal', also covered by Sonny Rollins, that sit perfectly in the set, balancing the flow
McCallum and Walker have had the privilege of working with an impressive range of musicians (Stuart with Cinematic Orchestra, Richard Spaven and Slowly Rolling Camera and Mike with Impossible Gentlemen, George Russell and Kenny Wheeler amoung others), demonstrating the dynamism and musicality that they both have to offer. The Space Between is not just an album documenting a musical friendship and the love felt for an instrument, it also raises both musicians to a new level and should earn them the respect, profile and greater audiences that their skills and their wide experience demand.
Recording in the Wood Room at Real World Studios has imparted an earthiness and warmth to the recording that complements the playing. Listening to 'Aflie' you can almost hear the log fire gently burning away into the night!
Restricting their roles to Walker on the electric guitar and McCallum on acoustic, The Space Between is a bold statement. McCallum and Walker are British guitar giants, equally proficient and skilled, yet with vastly different sounds, setups and backgrounds. As a duo, there's a deep connection between these two musical minds, a great sense of unity, mutual respect and generosity. As a duo they are able to create something that transcends their individual brilliance to create music of real beauty and authority.