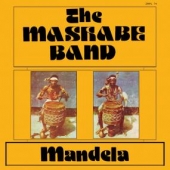 Mashabe Band
Mandela
Label: Sharp Flat
Genre: Freestyle / Nu Jazz / Funk / Afro
Important document from Zambia, 1987. A deep treasure this one.
Despite notable forays into the global sounds of rock and disco, the local heart and soul of Zambian popular music in the 20th century lies in the Kalindula sound. With it's ceremonial tribal roots on homespun guitars, traditional double bass and percussion, Kalindula evolved into a modern, electric sound over the course of the Zamrock years in the 1970s and lived it's golden age as Zambia's most popular groove in the 1980s. There to document the prodigious outpouring of creativity was Zambia Music Parlour, the independent outfit that had launched the likes of WITCH, Ngozi Family and Amanaz a decade earlier. One of the label's principal Kalindula talents was the Mashabe Band, led by songwriter James Chisenga. Deeply Afrocentric with a name that refers to mystical spirits, the Mashabe Band often performed in traditional dress with body paint. Of the band's three albums and numerous singles issued by ZMPL, Mandela from 1987, named to honour the political prisoner who would go on to lead South Africa's first democratic administration in 1994, is the group's most compelling point of entry and an excellent primer for the Kalindula style as a whole. Restored from the master tape vault of the Zambia Music Parlour label, Sharp-Flat presents an essential slice of Zambian music history from a period ripe for investigation and rediscovery. Complex African rhythms with crisp electric amplification and tribal roots presentation, the Mashabe Band formula is mesmerising and infectious.
Edition of 500 copies.