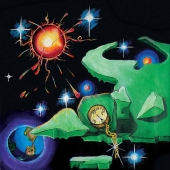 Southern Energy Ensemble
Southern Ernegy
Label: Strut
Genre: Freestyle / Nu Jazz / Funk / Afro
We are proud to present the first full international release for another lost classic from the Black Fire Records archives, 'Southern Energy', the only album recorded by R'n'B and jazz collective Southern Energy Ensemble in 1977.

"As Southern Energy, we played the chitlin circuit and ended up gigging most weekends at clubs, universities and military bases in Virginia and North and South Carolina," remembers leader Marvin Daniels. After meeting Plunky Branch and Jimmy Gray, they recorded some high energy sessions during 1977. "Southern Energy was tight," continues Daniels.

"The album was all about positive messages and celebrating real people." The band would break up soon after the members left college. Canned following the original recording, the album eventually surfaced on a limited CD and LP on Black Fire in 1993. 'Southern Energy' has been remastered from the original tapes by The Carvery, and features unseen photos and brand-new sleeve notes by co-bandleader Marvin Daniels.