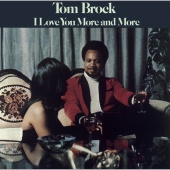 Brock Tom
I Love You More And More
Label: Mr Bongo
Genre: Freestyle / Nu Jazz / Funk / Afro
Availability
LP €25.99

Dispatched within 5-10 working days
Re-issue of a soul masterpiece from 1974, 'I Love You More and More' by Tom Brock was Tom's only solo album release, but what a beautiful classic it is. For some, it is up there in the pantheon alongside their all-time treasured soul favourites such as Marvin Gaye's 'What's Going On'.

Produced by the legend Barry White and released on 20th Century Records in 1974, it features the lush hallmark orchestration, heartfelt songs, and funky yet slick playing you'd expect from a White production. Like a dusting of sugar onto the top of the cake, the record also features the stunning arrangements of the great pianist, arranger, composer, and producer Gene Page, whose musical career left an impressive and prolific legacy.

'I Love You More and More' received another lease of life when it was resurrected for a new audience after having been sampled by Jay-Z, Mos Def, C.L. Smooth, and others. The record is solid throughout, but the song 'There's Nothing in This World That Can Stop Me From Loving You' proved to be an extra-bright star in the sky and it formed the base to Jay-Z's 2001 hit 'Girls, Girls, Girls'. The sampling of Tom's work triggered the collectors, diggers and DJs to explore his record and to transfer their passion for it onto their followers too.

Tom Brock passed away in 2002, but left behind his sensational soulful voice on a handful of amazing dusty 7" singles, several assorted productions recorded by other artists, and this absolute winner of an album, which will be cherished for years to come.