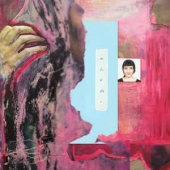 Tofik Sonja
Anomi
Label: Moloton
Genre: Electronica / Ambient / Experimental
'Anomi' is Sonja Tofik's first full-length LP, and a continuation of her debut 'Neuros'. Anomi is the Swedish word for the sociological term anomie, first coined by french sociologist Émile Durkheim in 1893. Described as 'the condition in which society provides little moral guidance to individuals', he suggested that for societies to function and their individuals to prosper, they need to be driven by strong and distinct norms, both social and moral. If absent, individuals are exposed to anomie, and start to inhibit self-destructive behavior. Anomie is a state of suffering, an absence of affinity, both to the individual and to society - which creates dissonance in the human experience. It denies us the presence of death and disconnects humanity from its nature and inherent mysticism.

This model of explanation sparked interest in Sonja as being an interpretation of a spiritual presence in our monotonous present. In her work on 'Anomi', she uses music to delve into the notion of anomie, and what happens to us as citizens within a society restrained by rigid codes. She deliberately cultivates cliché symbolisms to examine the fracturing of emotions in this alienation of self, and how it affects our relationship to death. She also incorporates old folk songs in both Finnish and English and builds upon them - for instance 'Sky Trumpets', written in Finnish, is about the end of times and how only then can the hands of the working masses be set free. Using superimposed textures of synthesis, organ, concrete sounds and voice, she counters monotonous drones against more harmonic timbres to effectively summon these states of mind, through raw emotion, often with few elements and unobscured of any excess statements. 'Anomi' is her plea to resurrect mysticism into being alive and the wait it entails.

Electroacoustic musician and composer Sonja Tofik was up until recently a part of the studio collective Drömfakulteten, which was home to some of Stockholm's most creative artists, including names such as Sissel Wincent, Maria w Horn and KABLAM. Now scattered to the wind after losing their studio space, its former members are still more active than ever with a persistent output of avant-garde music.

Sonja is one of those who was a member until the very end. Since her debut 'Neuros' was released via Moloton in 2017, she has continually put out new music, including a collaborative LP with Mar-llena, 'Vilar i dina spår', an interpretation of Jaakko Pallasvuo's dystopian text 'Darkness of Winter' released through Country Music, and a remix of KABLAM's 'Remembrance' as a part of 'Confusía Remixes' earlier in 2020.

Her work focuses on superimposed repetitive structures of analog and digital synthesis, organ drones, sampled textures and voice, often presented with few simultaneous elements, which she uses in concoction with outbursts of raw emotion during performances. She is also pursuing a degree in social work, from which she draws inspiration through sociological models of human nature and concepts of spirituality, mysticism and death in modern civilizations. She has performed her music live in a multitude of contexts, including festivals such as Intonal in Malmö (alongside William Basinski and Holly Herndon), Transformations at Under Bron (alongside Robert Aiki Aubrey Lowe and Dungeon Acid) and Akusmata in Helsinki.