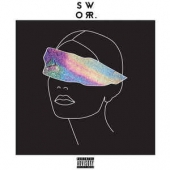 Sworr
Sworr
Label: Fair Weather Friends Records
Genre: Electronica / Ambient / Experimental
Availability
LP €19.99

Dispatched within 1-4 working days
Founded in Patras, Greece in 2014 by producer John Tsallas as an outlet to release his early recordings, Sworr. eventually transformed itself into a collective of musical minds with the addition of bandmates Robin K. and Thanasis Q. The trio soon set off to explore their unique sound collage: a poignant blend of soulful electronica, alternative pop, and tripped-out guitar sounds, evident on their debut studio album, Sworr , to be released on Fair Weather Friends Recordings next March.

After winning acclaim—and Greece's Jumping Fish contest—in 2015 with the release of their hit single "Troubled Thoughts" a string of much-loved sets at the likes of TEDxChalkida and Anthens' Sofar Sounds set the the scene for what we're hearing now across nine new tracks. Co-produced by the acclaimed Cayetano (Etage Noir Music), the album leans on a moody atmosphere fuelled by powerful vocals and intimate lyricism. It kicks off with the chopped up drums and Explosions of the Sky-esque guitar beats of "Barcelona", while on "Fluoresence pt.2", a low-slung late-night jam full of squelchy guitar FX, it's no surprise the group cites the visionary stylings of Darkside
as a key influence. Heavy synths flow through the album as well, with tracks like "Great View" sounding like a downtempo hip-hop song produced by an electronic-pop band.

Never sitting still for too long and full of warm and affecting moments and ideas, the album is a powerful portal into the group's exploratory sound.

The Story

2014, South of Greece
People's lives get entangled in intriguing ways, forming a colorful canvas tightly knit with purpose. Sputtered on a corner of Greek land for no apparent reason, but with one common need.
Sworr. were born out of that need, out of this exact drive. A collective of young musicians, video artists, graphic designers in need of expression, taking that first leap of faith in the world of creativity together.
Their debut album explores the darker paths of downcast electronica. Spoken words floating on ether uncover the truth of a bleeding youth that persists, against a world domineered by a twisted perception of one's self.
Transforming hardship into beats and words, beyond sterile grooves, Sworr. set emotions into motion.

Bio

John Tsallas, Robin K. and Thanasis Q are Sworr.
Formed in 2014, Sworr. soon established themselves in the streets of an ever- changing Athens.
A natural evolution of hard work, passion and persistence, Sworr. won the Jumping Fish contest, a platform for young emerging artists.
Since then, they performed at Sofar Sounds, music festivals across Greece and TEDx events.

Transparent vinyl.