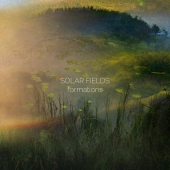 Solar Fields
Formations
Label: Sidereal
Genre: Electronica / Ambient / Experimental
Availability
LP x2 €32.99

Dispatched within 5-10 working days
Other Formats
Formations the new full-length studio work by Magnus Birgersson musical alter ego is about to see the light. When asked to provide some insights about the album, Solar Fields underlined that every track comes in a different form, shape and emotion. Each song conveys different moods and the sound palette varies from melancholic to joyful, dark to bright, taking its time to plant their seeds into their listener.

This is what you shall expect from Formations: a broad spectrum of sounds and emotions. As always when it comes to the works of Solar Fields, you will find yourself amazed by new details and shades at every further spin.

A kaleidoscopic effort, Solar Fields new album may very well be the right choice for every mood you fall into, just tune it to the right track and you'll see…

Clear vinyl.