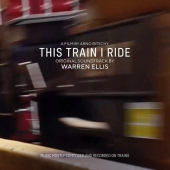 Ellis Warren
This Train I Ride
Label: Invada
Genre: Soundtrack
Availability
LP + MP3 COUPON €27.99

In Stock
he Australian musician (Dirty Three, Bad Seeds, Grinderman) has scored a number of high-profile films ('The Assassination of Jesse James by the Coward Robert Ford', 'Hell or High Water', 'The Road') and his latest score is for 'This Train I Ride', a documentary film directed by Arno Bitschy.

The score is pressed on black vinyl and comes in a deluxe gatefold sleeve with the record itself housed in a double sided printed inner sleeve featuring liner notes by Warren Ellis and Brian Eno. Digital download card included.

"My idea was to record, collate and produce the music on trains, in the spirit of the women in this documentary. Brian was so encouraging with this approach and told me about a train journey he had taken in the 80's with no fixed destination. Over the next month I sat with my computer, loops, iPhone, Reface DX synthesiser and forgotten ideas and composed the music on the Metro and Eurostar and in various hotels while working on Ghosteen. I would send the pieces to Arno from the train, or wherever I was located, and he edited them into the film." - Warren Ellis

The film tells the story of women hopping freight trains around America. The film follows the life-journeys of these women living on the fringe in a rapidly changing country, in their quest for identity, freedom and finding their place in the world.