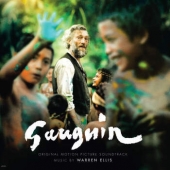 Ellis Warren
Gauguin
Label: Milan
Genre: Soundtrack
Availability
CD €18.99

Dispatched within 5-10 working days
In 1891, Gauguin went into exile in Tahiti. He wanted to find his true art, as a free man, far from moral, political and aesthetic codes of civilised Europe. He broke into the jungle, braving solitude, poverty and illness. There he met Tehura, who would become his wife, and the subject of his most beautiful paintings.

This biopic of the French post-impressionist painter features a sublime score composed by Warren Ellis. A member of Nick Cave's Bad Seeds, Warren Ellis is also the artist behind brilliant soundtracks with the latter: The Assassination of Jesse James by the Coward Robert Ford, The Proposition, The Road, Mars, and Hell or High Water. But Warren Ellis is not only the shadow of charismatic Nick Cave: he won the César for best score in 2016 for his first solo work Mustang and we heard his art more recently in Django.

For Gauguin, Warren Ellis has surpassed himself: melancholic strings, nostalgic pianos, and contemplative soundscapes are now the trademark of this Australian genius. The album also features four tracks by Nick Cave & Warren Ellis from their "White Lunar" compilation.