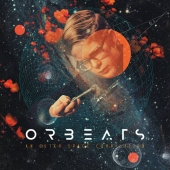 Various Artists
Orbeats
Label: Melting Records
Genre: Freestyle / Nu Jazz / Funk / Afro
Melting Records travels the spaceways with an exciting new compilation: ORBEATS. The album gathers ten international downtempo artists for the purpose of creating music suitable for the dreamy, languid journey through interstellar space. Side A represents the light of our closest star while the darkness of the long void is found on the flip side. Εach track is matched to a heavenly body — it's an aural trip to the moon, to the planets, and back to Earth.

Greek beat maker Rsn opens the 'light side' of ORBEATS with a "Trip To Mars". The track sets the tone as it floats and shimmers over a downtempo shuffle, meteoric accents sparkling as we go. Keno — AKA David Hanke from Renegades of Jazz — gently offers plucked celestial strings on "Elwood", joined by lovely vibraphone and saxophone flourishes. The renowned rhythm-wrangler Kill Emil features on the next two collaborative tracks. "Transformations" includes the Hungarian-based Savages who contributes twinkling instrumentation over Kill Emil's exceptional beat construction. Young producer Mononome then joins Kill Emil on "Clear Skies", providing a particularly phat beat to accompany the track's spaced-out treatments and melodies.

The Spanish beat-matador Pablie opens the 'dark side' with "Sunny Riders", an ethereal cut driven by visions of harps, sitars, and a snapping rhythm.Now, on the B side, we're traveling through the 'dark side' of the cosmos. French flutist and producer Hugo Kant creates an exotic mood with pulsating chords, strange vocals, sitar, and a bevy of other instruments. "Coriolis Effect" — by UK producer Hashfinger — is next, teleporting solid drums and alien vibes across the galaxy. Then there's a lovely space station transmission from acclaimed duo Ancient Astronauts, the evocative and cinematic "Crescent Moon." Russian downtempo veteran RADJ closes out the set with his otherworldly "Batiskaf". Coded signals percolate over flickering vibes and a subdued beat, ending ORBEATS on a sense of wonderment.

ORBEATS is an essential addition to any music lover's cargo, whether for a short trip to the DJ booth or a long haul across the solar system. Blast off!