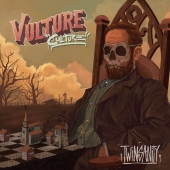 Twinsanity
Vulture Culture
Label: Melting Records
Genre: Hip-Hop
Twin brothers and MCs Linkone and Eyekonik make up the acclaimed Greek hip hop duo Twinsanity. They've honed their flows with random street appearances throughout Athens, eventually recording the debut album The Quest and the viral track "Snakes and Ladders". Now Twinsanity joins the Melting Records family with Vulture Culture, an anticipated follow-up album that delivers plenty of dope beats and ill rhymes.

With striking cover art by the Colombian street artist El Flema and a limited vinyl run of 500 copies, Vulture Culture comes out of the gate with an air of prestige. Twinsanity's verses are on point and the tracks are collaborations with a variety of Greek and French beat makers. Moderator, coming off the strength of his album Sinner's Syndrome, provides dubby flavors to "Raw Pressure" in a memorable combination. The opening track, "Osmosis," features thick trip hop-style beats by the up-and-coming Rateone that play perfectly with the double-time lyrical flow. Guib, of the French duo Ours Samplus, gets jazzy with his production on the boom-bap flavored "Beauty In Decay". And DJ Gzas of the Rationalistas adds some ominous cinema vibes to the gritty "Concrete Throat."

Other top notch producers providing crucial beats to Vulture Culture include El Jazzy Chavo, 4th Floor, and the aforementioned duo Ours Samplus. The album is a journey of rhyme and rhythm, with layers and textures complimenting the snaps of the snares and the spit of the rapid flow. Twinsanity's Vulture Culture is one for the ages … wonder twin powers have undoubtedly been activated.