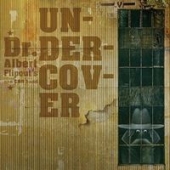 Dr. Albert Flipout's One Can Band (featuring Mickey Pantelous)
Undercover
Label: Dr. Albert Flipout's One Can Band
Genre: Rock / Pop
Availability
Other Formats
Dr. Albert Flipout's one CAN band (aka Mickey Pantelous) is back and "UNDERCOVER". The "band's" fourth album (second on vinyl) consists of 8 songs, 5½ covers and 2½ originals. 8 tracks that cover all the genres this one man band is involved in, from raw Blues to pure Rock 'n Roll over to after-hours dark Cabaret music.

The album starts out with a rock and rollish, Blues-Garage approach to the song "Personal Jesus" by Depeche Mode, followed by a super electrified version of the traditional blues song "Catfish Blues". "Nickels and Dimes" is an original music wise, but the lyrics are written by a Greek Heavy Metal band called "Need" in memory of Dimebag Darrell, guitar player of Pantera, who was shot on stage. Mickey was allowed to use the lyrics and turned the song into a dark Cabaret Country waltz. Last song on side A is "Long, long gone" by Frankie Lee Sims. A reference on how the Blues slowly evolved into Rock 'n Roll in the early 50's. Side B starts with the famous Guns and Roses song "Sweet Child 'O Mine" played on a single slide guitar in such a way that will make people wonder if the song is a traditional Celtic tune that the infamous band simply discovered and revived. Two original tunes follow up: "Last night" is a muddy Blues song written in 1992, while Mickey was serving in the Royal Danish Air force; the influence from Muddy Water's album "Hard Again" and the Red Devils album "Live at King King" is clear. "Your Friends (are giving me a hard time)" follow up: a Rock 'n Roll tune, inspired lyric-wise by the Greek traditional song "Ta paidia tis geitonias sou me peirazoune". The Album ends with a one-man-band, lazy, dark and groovy, after hours approach to the Tom Waits song "Tango till they're sore".

Mickey Pantelous is a Danish-Greek (based in Greece at the moment) unconventional Blues-Rock / Avant-garde artist born in 1973. After breaking up his band "The Chess-mates" in 2007 Mickey decides to go solo due to communication problems with other people. In order not to get too lonely Mickey creates a fictional character "Dr. Albert Flipout" (the tin-can Latin shaker attached to his left foot that works as a snare drum in his one man band project) and names the band after him, "Dr. Albert Flipout's one CAN* band" . The third "member" of the band is the mysterious Jess on the cymbals. You can see a picture of them all on the back of the album's cover.

* CAN: a) A Can, is a metal container in which something such as food, drink, or paint is put.

b) You use CAN to indicate that someone has the ability or opportunity to do something.