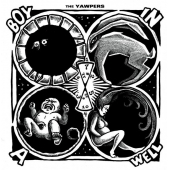 Yawpers
Boy In A Well
Label: Bloodshot
Genre: Rock / Pop
Availability
LP + MP3 COUPON €22.99

Dispatched within 5-10 working days
Other Formats
Recorded in Chicago by Alex Hall (JD McPherson, Pokey LaFarge, The Cactus Blossoms, The Flat Five) at Reliable Recording and produced (with instrumental contributions) by Tommy Stinson (The Replacements, Bash & Pop), Boy in a Well stretches The Yawpers' sound and ambition in challenging, impassioned, and dynamic directions. To follow up their 2015 Bloodshot debut American Man — which Rolling Stone described as mixing "high-brow smarts with down-home stomp" — the trio left the comfort zone of their Denver hometown in September 2016 to record in a city they'd only briefly visited before.
The story-vision was initially conjured by lead singer Nate Cook, after a reckless combination of alcohol, half a bottle of Dramamine, and an early morning flight. The delusional result is an album of complete immersion and instinct, with personal background (the story removes shrapnel embedded from Cook's failed marriage) meeting psychological fascinations (German realpolitik, Freud, Oedipus, and the lasting social and cultural fallout of WWI… you know, the usual rock 'n' roll stuff). Structured, composed songwriting from the band's freakishly tight backbone — guitar prodigy Jesse Parmet and bulldozing drummer Noah Shomberg — blend with the impulsiveness of their wild-eyed, punk-reincarnation-of-Elvis frontman.
Boy in a Well sounds like Alan Lomax using his field recorder to capture Mance Lipscomb ripping a laced joint (or something much more potent) with The Cramps and strapping their instruments on to let that shit fly. But while the band dials into the finest, frenetic trucker-speed induced scuzz blues, there is patience and dark soul within and between songs much like the blank space between paragraphs and chapters. Each track is a division of the plot — paired visually with an accompanying comic book, illustrated by J.D. Wilkes of The Legendary Shack Shakers — that seamlessly blends into the next.
"Armistice Day" slowly awakens in an altered reality with distant echoing piano, ghostly harmonics, and menacing chants, leading way to "A Decision is Made", the feverish rockabilly-cum-muscular blues and fuzzed out, grungy, bottleneck slide acoustic guitar force of Parmet. The kinetic "Mon Dieu" reimagines the Dead Kennedys three decades on with its fiery cosmic psychobilly and retro R&B/garage tones. There are solar flashes of surf ("No Going Back"), Bo Diddley's shaker man shufflin' groove ("Mon Nom"), the punched out, funky drumming of the Blues Explosion's Russell Simins ("Face to Face to Face"), and a sulfuric, slicked-up Carl Perkins for the modern world in "Linen for the Orphan."
Later, "Room with a View" is a lonesome ballad that tells the story of the unwanted child growing up in the well where he was abandoned. It's a touching, melancholy, moral take not typically characteristic of the group. Similarly, a contrast is present in a softer, stripped-down picked-acoustic side in "God's Mercy", "A Visitor is Welcomed", and "The Awe and Anguish" — the latter of which sounds like a lost track from a 1940s Smithsonian Folkways album. Finally, "Reunion" paints a vision of The Who's Tommy, a fitting bookend to the concept and aural diversity.
The Yawpers' Boy in a Well is complex; it's a manically conceived, historically situated, emotionally underscored, plot-driven fictive universe. It's demented, unpredictable, taboo, ambitious, and yet distinctively cohesive.