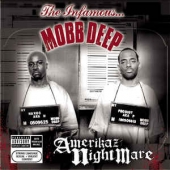 Mobb Deep
Amerikaz Nightmare
Label: Music On Cd
Genre: Hip-Hop
Availability
CD €9.49

Dispatched within 5-10 working days
Amerikaz Nightmare' is the sixth studio album by hip-hop duo Mobb Deep. It features the
singles 'Got It Twisted' and 'Real Gangstaz.' 'Amerikaz Nightmare' is a dark album, one
you wouldn't want to meet in an alley and one that can make Thomas Dolby sound sinister.
Prodigy's lyrical skills are always an asset, but he's overshadowed by Havoc, who not
only shines on the mic but also keeps growing as a producer. They've sounded stuck and
overconfident before, but this old-school-styled, true hip-hop album finds the Mobb hungry
again.