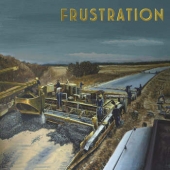 Frustration
So Cold Streams
Label: Born Bad
Genre: Dark / Post Punk / Gothic / Neo-Folk
Availability
LP €18.99

Dispatched within 5-10 working days
Other Formats
Fifth long-player from French post-punkers Frustration, featuring Jason Williamson, of Sleaford Mods. Right from the very first seconds of "Insane", a humongous electro-punk monster that wouldn't have been out of place on an 1988 EBM EP, you realise Frustration are once more pushing the envelope, like a bunch of guys who've been playing together for 6 months, who have nothing to lose and a ferocious will to bite.

Of course, post-punk shenanigans is still there (martial drums, elastic bass, hit-and-run guitars), but 'So Cold Streams' is full of a brand new energy, raucous lyrics and full-on audacity. Take a listen to "Brume", an industrial nightmare with lyrics screamed in French. Or the poppy and intimate "Lil' White Sister" sounds surprisingly like the Smiths or Echo & The Bunnymen. Or the insane "Slave Markets" on which the band invited Jason Williamson, half of Sleaford Mods - a band that was pivotal in Frustration's newfound youth.

"Sleaford Mods is a band that, musically and humanly, gave us a real boost," explains Fabrice Gilbert (vocals). They gave us a real sense of freedom, it allowed me to really say everything I wanted to say in my lyrics, to talk about extremely intimate subjects as well as much more general things, whether it be political or social. So Cold Streams is, paradoxically perhaps, our most disillusioned, energetic and free record.