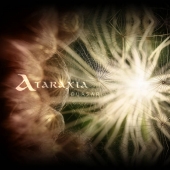 Ataraxia
Quasar
Label: Annapurna
Genre: Dark / Post Punk / Gothic / Neo-Folk
Availability
CD Digi / Cardboard €13.99

Dispatched within 5-10 working days
In their rich and storied career, Ataraxia have released 25 studio albums, EPs, and live albums for labels from around the world such as Cold Meat Industry, Equilibrium, Ark, Cruel Moon, Twilight, Avantgarde, Prikosnovénie, Infinite Fog, Sleaszy Rider, and now AnnapurnA. Similarly, the group has performed over 300 concerts in Italy, France, England, Germany, Belgium, Holland, Romania, Poland, Spain, Greece, Hungary, Portugal, Argentina, Mexico, and Brazil and at such festivals like Leipzig's Wave-Gotik-Treffen.

Now, aligned with longtime fans AnnapurnA, Ataraxia celebrate 30 years of activity with the publication of the new album Quasar.

Two years after the previous studio work Sincronicity Embraced, Quasar includes seven tracks across 55 minutes of music. "We worked on seven archetypes," the group says. "The number of grace and realization - seven, the colors of the rainbow - one for each song, and these informed energies have archangelic names. Powerful information flows that balance the four elements of fire, water, air, and earth inside and outside of us, with the fifth etheric element above the crown."

In astronomy, quasars are very distant objects that have to emit energy equivalent to hundreds of normal galaxies. Thus, the namesake Quasar is more than suiting here, for Ataraxia take you on a wondrous journey into the event horizon, the beating heart of every galaxy.