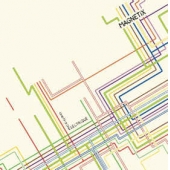 Magnetix
Drogue Electrique
Label: Born Bad
Genre: Rock / Pop
Availability
LP €18.99

Dispatched within 5-10 working days
Dissonant guitar, fuzz to the torment, battery in suffering for primitive and wild rock'n roll trance. Looch Vibrato and Aggy Sonora, couple in the city as on stage, confirm that with "DRUG ELECTRIC", the MAGNETIX remain with the Oh Sees, or Ty Segall, one of the most credible outsiders of the international garage scene.

Titles in French including the tubes "Drogue Electrique" or "Comme des bêtes"; Psychedelic drives (The Seeds are never far away); Reminiscences krautrock and rhythmic tribal (The Cramps watch the grain) are telescoped in a jubilant crash.

The MAGNETIX thus remain faithful to this moist and creepy garage that has become their trademark ("LR6", "Rest of my life"). Always on the wire, on the verge of suffocation, oppressive titles that remind us how rock and roll can be deflagrator when it is played with intensity and stripping.

Joining the services of Fred Campo, Frustration Keyboard ("Greenlight", "60's Ball") or soliciting the Crane Angels choir ("Velvet Eyes"), the group also marks his desire to experiment with new things and extend its sound horizons.

You probably know it already, but the group is also worth for its scenic reputation, whose physical and spectacular live transcends the public, and the borders. The band has played around the world and has been touring the USA and Europe.