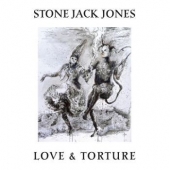 Stone Jack Jones
Love & Torture
Label: Western Vinyl
Genre: Rock / Pop
Availability
LP €21.99

Dispatched within 5-10 working days
Stone Jack Jones is a survivor. On two separate occasions the rare and mysterious blood condition that courses through his steely West Virginian veins almost killed him...even after receiving last rites on one occasion. Spending a little time at Death's door gave him unique perspective on life. While recovering from one of his near death experiences he deeply pondered the necessity of death, the torturous pain that comes with the death of someone you love, and eventually arrived at the simultaneously comforting and alarming conclusion that he was both alive and dead at the same time. In 2014 Jack released Ancestor, As a tribute to his father, Ancestor was a remembrance of mountain string bands, with many of the songs worked out as an acoustic three-piece sitting together in a bluegrass circle.
For his new album Love & Torture he took a different approach, working out the foundations for most of the songs in the studio with producer Roger Moutenot. Rather than recording everything over of a few days or weeks in the studio, the two met up sporadically over the course of many months, giving the songs plenty of time to gestate and evolve in stride with Jack's life. When it felt right, they'd invite long-time collaborators including Ryan Norris, Scott Martin, and Kyle Hamlett into the studio to improvise and explore where each song would go next. Having worked and created with the same guys for several years, their trust and intimacy let them extract moments of brilliance from the ether.
The album opens with the woozy groove of "Shine" which Jack describes as "a contemplation of what heaven might be like." The following song "Thrill Thrill" explores the helplessness he felt in the clutches of the blood disease that nearly killed him. Lambchop's Kurt Wagner contributes some serious low-end to the song "Circumstance". As Jack recalls, "I asked Kurt if he thought he could sing lower than me and he gave me a wily smile with a deep long ooooh yeah, took a sip of whiskey and put it in the basement." The mood lightens a bit on the drinking song "Russia" on which Jack's wife Hollis chants verses from Russian poet Alexander Blok, while Ben Smythe contributes a frenetic and deranged penny whistle to the party. The album concludes with the joyful acceptance and appreciation of "Amen", another song about Jack's celebration of life. As dark as his creative output can seem at times, it's heavily infused with Jack's undeniable light and his patient will to "...knock a hole in the sky. Seek light in the dark. Have secrets and make the air vibrate and shake reality so she shows her many faces." Like a collection of swirling and inviting mantras Love & Torture is a sonic dialog that pulses with the all of the grace and bliss that has touched Jack's incredible life.