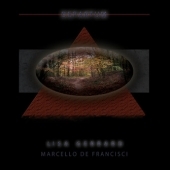 Gerrard Lisa & Francisci Marcello De
Departum
Label: Infinite Fog
Genre: Dark / Post Punk / Gothic / Neo-Folk
Availability
Other Formats
Academy Award nominee and Golden Globe winner singer/composer Lisa Gerrard (Dead Can Dance) and film composer Marcello De Francisci have joined forces to bring you their first collaborative album work titled "Departum". This album is a collection of pieces, which are filled with lyrical soundscapes, orchestrated with vocal chants, cimbalom, guitars, percussion, modern instruments and orchestra. An effort that took two years in the making moreover a journey inspired by ancient world cultures. (Mesopotamia, Europe & Asia)

After the groundbreaking album "The Trail Of Genghis Khan" written in collaboration with an Australian artist Cye Wood, Lisa Gerrard returns to Infinite fog with long-awaited complete, extended edition of the album "Departum".
Highest quality sound, ambient drifts, soft tribal rhythms, touching melodies of Cymbylom and 144-Strings Yang Chin playing by Lisa Gerrard and transcendental vocals. All this gives even more in sum and makes "Departum" pure pleasure listening.
The album recorded with Marcello De Francisci, well-known an American composer/visual artist with an Italian-Argentinean background based in Los Angeles, California. Marcello De Francisci is a big name in soundtracks industry, in 2006 he won the best soundtrack of the year G.A.N.G. ward for his work on SCEA's "God of War" game. His music has been used in major theatrical movie trailers such as "Avatar", "Prince Of Persia", "Monsters VS Aliens", "Seven Pounds", Hellboy" to name a few. Moreover, we can remember his mesmerizing music in the sequel to "Baraka" art house documentary "Samsara". Since 2009, Marcello and Lisa start work together and recorded several soundtracks for major and art house movies. Besides that, their creativity also found a realization in a common album "Departum", which became one of the most top-rated albums in Lisa Gerrard discography. Attentive listener may remember Marcello as co-creator Lisa Gerrard's album "Twilight Kingdom".