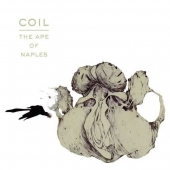 Coil
The Ape Of Naples.
Label: Infinite Fog
Genre: Industrial / Post Industrial / Experimental
Availability
LP x3 €54.99

Dispatched within 5-10 working days
"The Ape of Naples" is a deeply emotional and uniquely rewarding album. In its immediate accessibility it is somewhat reminiscent of Coil's mid-1980s classic "Horse Rotorvator" sharing that album's wild variety of sounds and styles as well as its overriding sombre mood. Originally released in 2005 and in many ways the band's ultimate swan song, it is now considered one of the go-to albums for introducing new listeners to the unparalleled magick of Coil. Compiled and released by Peter Christopherson and Danny Hyde one year after Jhonn Balance's tragic deadly fall, it includes reworkings of the live favourite "Amethyst Deceivers" and "Love Secret's Domain"'s "Teenage Lightning" as well as several songs originally intended for the ill-fated "Backwards" album like the haunting and preminiscent "Fire of the Mind" and the superb "Amber Rain".

Other tracks were created using unfinished song ideas from around "Backwards", sampling tiny bits of Balance's live vocals from songs only ever performed in concert once like "Triple Sun". Using the lyrics of the theme tune for the 1970s BBC sit com series "Are you being served?" for the unbelievably haunting "Going up", this album's final track and the last song Coil ever performed live, is maybe the most poignant example of Balance's and Christopherson's method of turning base matter into pure sound gold, and like the title of the album, derived from an imaginary adult video an equally fine example of the often underappreciated humour of the boys.

Christopherson with the help of long-term sound wizard Danny Hyde and using some of the talent of Coil touring members managed to craft an album which feels and flows like a true Coil classic.