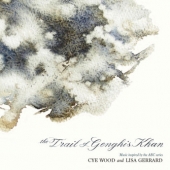 Wood Cye & Gerrard Lisa
The Trail Of Genghis Khan
Label: Infinite Fog
Genre: Dark / Post Punk / Gothic / Neo-Folk
Availability
CD Digi / Cardboard €17.49

Dispatched within 5-10 working days
With the greatest pleasure Infinite fog Prod. presents: "The Trail Of Genghis Khan" by Lisa Gerrard & Cye Wood !

Whatever you know about Mongolia, hardly you could tell more than an Australian traveler Tim Kop, who left 3 years of his life in the marvelous Mongolian steppes, certainly taking with him far more impressions than many can take in his entire life. The film about this nomadic journey was released by the ABC Television Group, and has received many awards, including National Geographic (Australian Geographic).
The album 'The Trail of Genghis Khan' made by Cye Wood in collaboration with Lisa Gerrard, it sourced from material that Lisa and Cye produced for the documentary series 'The Trail of Genghis Khan', this album is an emotive interpretation of Tim Cope's epic journey on horseback from Mongolia to Hungary. Drawing on inspiration from this rugged & majestic landscape and the culture & inhabitants of this unique part of the world, they have allowed their intuition to be the guiding force in the creation of these works.
Lisa Gerrard, widely known for her magical voice, by the work in Dead Can Dance and the grandiose soundtracks, together with the Australian violinist multi-instrumentalist Cye Wood, currently based in Berlin, portrayed the emotions and impressions of the epic journey in musical form.
Cye and Lisa, both extraordinary musicians who have devoted their entire lives to music since the early years, and it's no surprise that they could find the perfect mutual understanding and create such a wonderful album worthy of being named one of the best in the discography of both authors. Cye already had experience working with Lisa Gerrard as a violinist on her solo album "The Black Opal" 2009. And a year later the first full-length joint work "The Trail of Genghis Khan" was ready. Charming melodies, excellent arrangements, perfectly balanced atmosphere and a bewitching plot of songs, all this in a compartment with the inimitable vocals of Lisa Gerard is "The Trail of Genghis Khan".
Cye's work delves into many aspects of sound creation, including improvisation, composition, production, performance, sound installation, and field recording. His live and recorded work invokes a deep listening state, drawing audiences into familiar, yet uncharted territories. He began studying classical violin at the age of 3, and was performing professionally by the age of 10. At the age of 14 he began working as a session musician, and it was during this time that his life long love affair with the recording studio began.He has contributed string arrangements and solo violin to many albums and film projects, and performed with a diverse array of artists including – Eartha Kitt, Sarah Blasko, Hein Cooper, Angus Stone, Yeshe and many others.His first release arrived in the form of 'Araya'. Primarily consisting of piano, strings, field recordings and solo violin, all 4 songs were performed and composed by Cye, and recorded and produced with engineer/producer Antony Payn.