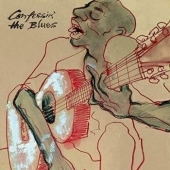 Various Artists
Confessin' The Blues - Compiled By The Rolling Stones
Label: Bmg
Genre: 60s / 70s Rock / Pop / Progressive / Kraut
Availability
CD x2 Digi / Cardboard €14.99

Dispatched within 5-10 working days
BMG and Universal present 'Confessin' The Blues'… Original Blues masterpieces hand-picked and curated in collaboration with The Rolling Stones with cover artwork by Ronnie Wood. As well as being the biggest band in the world, The Rolling Stones are also the biggest champions of the blues, so who better to curate a compilation in collaboration with BMG and Universal, of the music that inspired them throughout their career?

Confessin' The Blues collects together the greatest bluesmen ever and provides a perfect education to the genre. The tracklisting on the various formats has been chosen by The Rolling Stones, in collaboration with BMG and Universal and will be released on BMG on 9 November.

The Rolling Stones have long been supporters of the Blues from before the start of their career right through to their latest album, Blue & Lonesome which featured their interpretations of the classics, many of which appear in their original versions here on Confessin' The Blues. Mick Jagger was an early fan of the Blues: "The first Muddy Waters album that was really popular was Muddy Waters at Newport, which was the first album I ever bought". Keith Richards said, "If you don't know the blues... there's no point in picking up the guitar and playing rock and roll or any other form of popular music."

Confessin' The Blues includes tracks by the biggest Blues pioneers including Howlin' Wolf, John Lee Hooker, Elmore James, Muddy Waters, Chuck Berry, Big Bill Broonzy and Robert Johnson. All of these artists had an impact on the nascent Rolling Stones, be they influencing Keith's guitar licks or Mick's vocals and lyrics. As Ronnie Wood says: "That's how Mick and Keith first got close as well, on the train coming back from college. They noticed each other's record collection and it was, "Hey, you've got Muddy Waters. You must be a good guy, let's form a band".