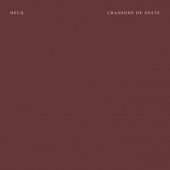 Hecq
Chansons De Geste
Label: Hymen
Genre: Electronica / Ambient / Experimental
Availability
CD €14.49

Dispatched within 5-10 working days
with 'chansons de geste' ben lukas boysen a.k.a. hecq presents a very personal release, conceived as a memorial and dedication to bygone events and individuals. the basic sources for the eleven haunting tracks were original tape recordings boysen and his family members made decades ago for private use, ranging from piano etudes to classical works by composers like j.s. bach and johannes brahms. it was hecq's intention to restore, to revive and to re-arrange these basic sources for the existing release in a condensed and unusual way. each tape was digitized to hard disc, loops and patches were extracted from this sound pool, and the collection was recorded on a reel-to-reel tape recorder. the tapes were taken and played back inside a church where the natural reverb of the location was added and used as the master recording.

musically, 'chansons de geste' is a captivating assemblage of mesmeric ambient works where the natural hissing from the ancient tape recordings interpolate with orchestral classical textures and slight electronic manipulations. the hypnotic loops and dots transfer an atmosphere of grandeur and melancholia to those who are aligned to the album's concept as well as to the unprejudiced... listener.

'chansons de geste' is hecq's examination and refurbishment of a rich, touching and important time's distillate - an aural inheritance of activities and events which only remain to exist as a memory. highly recommended.