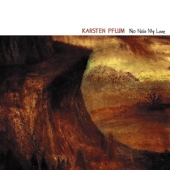 Pflum Karsten
No Noia My Love
Label: Hymen
Genre: Electronica / Ambient / Experimental
Availability
CD €14.49

Dispatched within 5-10 working days
inspired equally by 80's synth pop, detroit techno and nordic folk-music, karsten pflum started experimenting with old synths and sequencers in the middle of the 90's using the name of slaphead faun.
after discarding that name he released his first album 'tracks' on the legendary label worm interface in 2003, soon followed by ep's and full length releases on labels like jenka music, tender productions, suburban trash industries and mindwaves (where slaphead faun rose again as an album title). his music has been broadcasted across the airwaves by such luminaries as legendary british dj legend john peel and mary anne hobbs to name a few, and he has toured in scandinavia, germany, uk, spain & turkey, both solo and as a member of groups. over the years he became part of the intriguing and very talented young danish school of electronica and a driving force of the north european electronic music stage. currently he lives in berlin and studied electronic music at the academy of his former home town of aarhus.
karsten pflum pays tribute to the glory days of idm without losing focus on the future of the genre. he explores the boundaries of heavy bass driven dubstep, frantic d'n'b and breakcore, combining soulful soundscapes with hard complex rhythm programming and treatments. 'i make music as a kind of therapy' he explains, 'i try to live in a parallel world of music, where the things that happen reflect 'reality' but at the same time live their own life, and kind of grow on their own. i guess i am a pretty typical electronic musician, who tries to develop my music all the time, and find the identity that suits me at the time.'
the curious playfulness that has characterized pflum's work since his debut has evolved and become less naïve and more sophisticated. 'no noia my love' offers a multitude of twisted yet melodic tracks with an epic quality, exploring the borderlands between repetition and rhythmic intricacy. through his incredibly distinct programming, alluring ambience and low frequency treatment he brings the minimal compositions to higher grounds, balancing between machine-generated tightness and organic plasticity.
in karsten's own words, the album title is meant as a genuine wish for the recipient not to worry, everything will be alright. so take a deep listen to this crystal clear production and welcome the new hymen records' family member. no noia, my love!