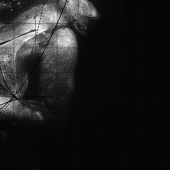 Gimmik
Entre Les Chambres
Label: N5md
Genre: Electronica / Ambient / Experimental
Availability
LP + MP3 COUPON €25.99

Dispatched within 5-10 working days
Martin Haidinger has released music on Worm Interface and Toytronic Records as Gimmik and is one half of Abfahrt Hinwil.

Released initially on hand-numbered cassette on Martin's own Hidden Reality micro imprint in October 2019, Entre Les Chambres gets the remaster treatment by n5MD for release on vinyl in early summer of 2020.

Entre Les Chambres is a highly personal work for Haidinger. And is his first new publicly released Gimmik since he appeared on our MD8 compilation back in 2004. We are proud to bring you the album on limited edition silver with black and white splatter vinyl on June 12th, 2020.

Those familiar with Martin Haidinger's work as Gimmik might be surprised by an entirely beatless return from Haidinger. However, those that have followed his music know that his synth work is undoubtedly his signature, and Entre Les Chambres' two long-form works bring his trademark to the fore, free from the confines of the grid.

Limited coloured vinyl.