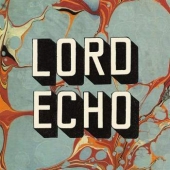 Lord Echo
Harmonies
Label: Soundway
Genre: Freestyle / Nu Jazz / Funk / Afro
Availability
LP x2 €24.99

Dispatched within 5-10 working days
Limited dj friendly double vinyl.
Harmonies is the new long player from underground super-producer Lord Echo. Hotly anticipated for the last few years by his growing entourage of fans, many were frustrated by his descent into obscurity in the industrial backwaters of New Zealand where he lived alone and went completely insane trying to complete the record.
The new album solidifies his already distinctive mutations of reggae and rock steady with disco, African soul, techno and spiritual jazz. In other words, the Lord has returned from the wilderness with a bounty for his followers. Eat of the bread of life and enjoy access to his crazy World of Sound.
"I generally only work with people I know quite well personally - so this included Tony Laing (Fat Freddy's Drop), who is a long time friend and collaborator, Leila Adu - a fantastically versatile composer and songwriter, the excellent singer and producer Mara TK (Electric Wire Hustle) who I was living with at the time and of course the fabulous Lisa Tomlins, whose rendition of Thinking Of You by Sister Sledge was such a hit off the last record."