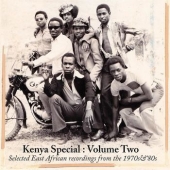 Various Artists
Kenya Special: Volume Two - Selected East African Recordings From The 1970s & '80s
Label: Soundway
Genre: Freestyle / Nu Jazz / Funk / Afro
Availability
CD x2 Digi / Cardboard €15.99

Dispatched within 5-10 working days
Kenya Special was one of Soundway Records' most popular releases and is considered a milestone in East African compilations. Now comes the latest release from Soundway's acclaimed African 'Special' compilation series, featuring 20 extremely rare recordings from East Africa, an area barely touched by modern compilations.

The release comes with detailed liner notes, original artwork and photography.
Available as 3 x 180g LP in gatefold sleeve with MP3 download, CD, or digital download.

Soundway is now proud to present 'Kenya Special : Volume Two'. This time the team of compilers have gone to even greater lengths to share a small part of what is slowly being accepted as an essential element of East Africa's cultural heritage: the history of recorded popular music.

The featured songs on Kenya Special : Volume Two bend the rules, break away from existing genres and sometimes experiment with foreign music trends. The approach to musical rediscovery behind Kenya Special : Volume Two has its origins in a youthful movement of vinyl collecting as well as, to some extent, club culture.