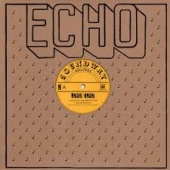 Lord Echo
Just Do You
Label: Soundway
Genre: Freestyle / Nu Jazz / Funk / Afro
Availability
12" €14.99

Dispatched within 5-10 working days
Originally released in the lead up to Lord Echo's third album Harmonies, the Just Do You (Disco Mix) 12" has carved out its own special place in many a music lover's heart.

In 2016, Lord Echo emerged after several years with a gleaming diamond in his hand - a slice of pure disco dub indulgence with all the rough trimmings that have made him a cult favourite from Tokyo to Trinidad.

With the real life concerns of the DJ always foremost in his mind, this 12" has something for every occasion - with two different vocals and a radical excursion into the realm of left field disco dub that record collectors sweat over in feverish night dreams of cult record acquisition.