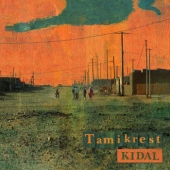 Tamikrest
Kidal
Label: Glitterbeat
Genre: World Music
Availability
CD Digi / Cardboard €15.49

Dispatched within 5-10 working days
Kidal is the town in which Tamikrest first came together as a group, and on Kidal, Tamikrest's fourth studio album, the band pays homage to this place that's nurtured them and their people. It's a cry of suffering and the yell of rebellion. It's power and resistance. This is pure Tuareg rock'n'roll. "Kidal talks about dignity," Ag Mossa says

All around Kidal, the Malian desert stretches in every direction. Endless horizons of rock and sand, barren and parched. This is the southwestern edge of the Sahara, the home of the Tuareg people, and the town of Kidal is one of their main cultural centres. Fought over,
conquered and re-conquered, it remains the symbol of Tuareg defiance and hope, the spiritual home of a dispossessed people.

"Kidal, the cradle of all these uprisings, continues to resist the many acts perpetrated by obscure hands against our people," notes band associate Rhissa Ag Mohamed. "This album evokes all the suffering and manipulation of our populations caught in pincers on all sides."The songs on Kidal evoke a long history. And for all the electricity, as Ag Mossa observes, "It's very traditional if you go deeply into what I'm playing."Everything here is focused. Everything burns."

With Kidal, that blaze is roaring. Recorded in Bamako, Mali in the summer of 2016, the album was produced by Mark Mulholland (Afro-Haitian Experimental Orchestra) and mixed by David Odlum, who received a Grammy for his work with Tinariwen. It's an album
that's taken two years to make, Ag Mossa says, "because we share the same difficulties of our people." And the songs here mirror their joys, their pain and their unwillingness to accept things as they are.

There's a raw beauty in Tamikrest's rock'n'roll. It's there in the driving, insistent groove that powers the songs, the lean, snaking bass lines and the guitars that twine and twist around the melodies, and the utterly natural musical blending of Sahel Africa, the Maghreb, and the West – a reflection of influences as diverse as Pink Floyd, Rachid Taha, and flamenco. Yet the Sahara, and the people who live there, is always firmly at its heart.