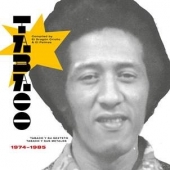 Tabaco
Tabaco
Label: El Palmas Music
Genre: World Music
El Palmas Music releases a compilation of songs by the famous Venezuelan singer and percussionist Tabaco. Tabaco Quintana is, without a doubt, one of the great masters of Venezuelan salsa. Born in Caracas in 1943, he was tall and very skinny, which earned him the nickname 'Tabaco.' A shoeshine boy and street hawker, at the age of 18 he fell in love with the Caracas nightlife and spent his days listening to the rehearsals of a musical group that he ended up joining, thanks to the intervention of his friend Elio Pacheco. That group was called Sexteto Juventud. Tabaco passed through almost every musical position within the band until he became a singer. It was the resemblance of his voice to Ismael Rivera and his skills as an interpreter that earned him a permanent position in the band.
After leaving the group in 1973, he created his own sextet, Tabaco Y Su Sexteto, and later formed Tabaco Y Sus Metales, two groups that achieved international recognition, and became staples of the Venezuelan music scene 'til the mid-'80s. Throughout, and despite his fame, Tabaco was always clear that music had a social role to play, and would often sing in Venezuelan prisons. Sadly, he died young, on May 30, 1995, due to a lung condition. The public overflowed the streets to accompany him to his last dance. This compilation of Tabaco's songs, simply titled 'Tabaco' and compiled by El Dragón Criollo and El Palmas, is an attempt to shine a light on this musical icon, and to show his versatility, vocal ability and unparalleled knowledge of musical rhythms. Primarily known for his voice - which isn't surprising considering his vocal nuances and the different registers he is able to reach - it can be said that he was also no slouch when it came to mixing up the rhythms. On this compilation there is a strong influence of African music ('San Juan Guarincongo,' 'Imolle') and jazz - just listen to the unforgettable beginning of 'Arrollando.'
Percussion, piano and wind instruments are high in the mix, but it's the masterful voice of Tabaco that adapts effortlessly to the requirements of the melody and the lyrics, riding each groove masterfully. The lyrics also show the great social sensitivity of the Venezuelan maestro: 'Una Sola Bandera' and 'Cuando Llora El Indio' are two great examples of salsa's power in denouncing social injustice, and Tabaco's commitment to that ethos. 'Tabaco' is unmissable, a heady journey into the essence of salsa and the rhythms of the Caribbean.