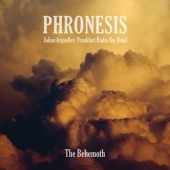 Phronesis
The Behemoth
Label: Edition Records
Genre: Jazz / Avant Garde
Phronesis have built a formidable reputation over the last decade as one of the most powerful and energetic small ensembles on the European jazz scene. Known for their virtuosity, roller-coaster live performances and telepathic group interplay, the trio have commanded impressive media attention and established a substantial fanbase on a global level. Following six critically acclaimed trio albums, the band have now completed their most ambitious recording to date with the release of The Behemoth. Consisting of ten new arrangements of compositions from their back catalogue by Julian Argüelles, commissioned for their tenth anniversary, this remarkable, vibrant new album featuring the Frankfurt Radio Big Band is rich in colour and bursting with spirit and creativity.

Julian Argüelles​ plays a pivotal role throughout this album, as arranger and conductor, and also appears as a soloist on Eger's '​Urban Control'. The founder member of 'Loose Tubes', and a critically acclaimed bandleader in his own right, he was also a longtime member of the Frankfurt Radio Big Band​, and ​The Behemoth confirms his deep understanding of the band, writing for individual players he knows well, in addition to his masterful ability as an ensemble arranger and conductor. All three members of the trio have been long time admirers of Argüelles's playing, writing and arranging and when an opportunity arose for them to collaborate, they all jumped at the chance. The Frankfurt Radio Big Band have an impressive story, having been one of the key radio big bands in Europe for many years, collaborating with a plethora of international jazz artists. Tackling the music of Phronesis is no easy task for any large ensemble, but with Argüelles at the helm, they met the challenge with a creative energy.

The big band forces provide a vast colour palette for Argüelles and he has fully utilised all the sumptuous sonic resources and added his own aesthetic, breathing re-imagined life into the trio's own-choice of material from their back catalogue. "We are constantly discovering new routes through our music when we play as a trio, so a re-interpretation of our compositions in a big band setting seemed like a natural and particularly scenic follow-on to this" Neame explains.
Over six albums, Phronesis have developed a bold, mesmerising and instantaneously recognisable sound. They have performed widely across Europe and taken their engaging grooves, irresistible rhythmic energy and breathtaking group interplay to concert stages and festivals across the world from Morocco to Brazil and Australia to North America. The brilliantly expanded sound world of The Behemoth sheds a fascinating new light on the trio's timeless music, and demonstrates the extraordinary ability of three superlative musicians who continue to surprise, excite and inspire audiences worldwide.