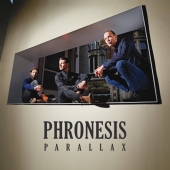 Phronesis
Parallax
Label: Edition Records
Genre: Jazz / Avant Garde
Availability
CD Digi / Cardboard €16.99

In Stock
Other Formats
Extraordinary communication between the players is often the foundation of extraordinary music making – as Phronesis prove every time they play. Years of performing, touring and recording have given the three members of the trio a matchless rapport. That inspires an ever-flowing fountain of new music, captured to perfection on this, the Anglo-Scandinavian trio's sixth CD and their fourth for Edition Records.
Recorded in a single day at London's fabled Abbey Road studios, Parallax is a brilliantly realised piece of music-making. It has all the standout features of the trio's work. Rhythmic drive. Constant shifts in mood and texture. Drama heightened by dazzlingly fast reactions. All leavened by a melodic sense all three draw on as much when improvising as composing.
There are new elements to enjoy, too. Pianist Ivo Neame's Manioc Maniac displays a stronger spicing of humour. Jasper Høiby's Stillness, featuring the composer's bowed bass, explores a contemplative mood less prominent in their earlier work. Fans of their more up tempo excursions also have plenty to enjoy, though – witness percussionist Anton Eger's opener, 67,000mph, named for the earth´s speed around the sun.
All are enhanced by the endless rewarding details the three together offer as each piece unfolds. It's an indispensible feature of their live shows which is captured here to perfection in a studio recording. This is truly collective music-making, in composition – with each of the trio contributing three of the nine titles – and in supremely interactive performances that display a brand of musical wit that captivates audiences.
All three players have remarkable facility, giving the unadorned, purely acoustic trio some of the strongest bass playing, fleetest piano, and most orchestral percussion you have ever heard. The music they make is lithe and supple, with the added spark that takes such fluid mobility beyond mere gymnastics on to balletic heights.
Each player writes for the trio knowing that their work will be taken somewhere different each time it is performed. They negotiate sometimes complex arrangements while retaining a spontaneity of suggestion and response that keeps the listener on the edge of their seat every time. The nine versions of new pieces captured here achieve a rare thing that only jazz at its very best can offer – music, created in the moment, that lasts.